Posted by Marty Dickinson on Jan 23, 2009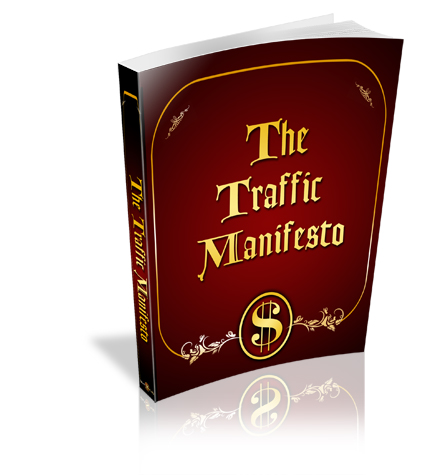 Being in the Internet Marketing business for 13 years, I have come across quite a few clients who are weary of the Internet because of their "lack of technical skills" when it comes to computers. Well, I am here to tell you that you don't have to be a know-it-all to make money online! And that is what Website Waves is all about. I want to hand you the tips and techniques I have learned in my career so you can make a splash in this giant pool of the World Wide Web.
That said, I have a little secret weapon for all of you Internet Marketing newbies. The Traffic Manifesto written by Ross Goldberg is a must read if you are just getting started online and don't know how to juggle all of the different social networks, or which article submission sites are the best to be featured on, or if you don't know what a Squidoo lens is. This eBook is also a must read if your business is on a slippery slope due to the economic downfall of 2008. Going back to the basics and learning the simple and FREE ways to get traffic to your site, could just be the answer to your income worries.
In Ross' sales letter for the Traffic Manifesto, he says, "I spent 3,547 hours learning how to generate massive traffic so you won't have to". In my experience, you have to be careful who you trust in the sea of top Internet Marketers. I like to make sure the people I follow are genuine people that really WANT me to get results. Ten days after waking up from a coma, Ross was told he would never be able to walk again. He spent his time learning the ins and outs of driving traffic on the Internet while working ruthlessly at physical therapy to hit his goal of walking again – which he achieved. (Great job Ross!)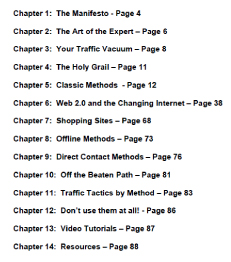 So, what is in this Manifesto? How about URLs to hundreds of article syndication sites, and dozens of press release syndication sites, podcasting directories, top social networking sitesm blog and RSS feed sites, affiliate program directories sites, video sharing and social bookmarking sites – 131 pages of how tos and links. Ross outlines 79 different ways to drive traffic to your blog or website – and most of them are free methods.
You might have seen the Manifesto selling for $97 which offers a range of bonuses, but I tracked down the same Manifesto selling for only $37 to save you a few bucks if you decide to get yourself a copy.
If you consider yourself technically challenged, or need to boost sales for 2009, check out the Traffic Manifesto here. If you already own a copy, or have seen other Ross Goldberg products and have an opinion, leave me a comment and tell me what you think. I'm thinking it's here to stay!
Click a Star to Rate This Post:
Tell Others About This Post:

Email This Post to a Friend