Posted by Marty Dickinson on Jun 18, 2008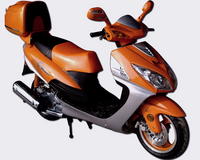 On CNN this morning, they reported a 25% increase in production for road scooters. Not the kind the kids stand up and push with one foot, but the kind you ride. We used to call them mopeds. But, then mopeds evolved into more horsepower and a sturdier ride that boasts 75 miles per gallon!
So, "scooter" it is. Now think about this. Detroit is laying off people right and left in the car manufacturing business, right? Scooter manufacturers are ramping up staffing to meet demand. Stores are selling out before you can get from looking at the website to their storefront.
Can you see the problem coming?  Sure. You get to the store only to find one or two types of scooter left for sale.  "Next shipment will be coming in next week sometime."
So, what's the answer? Selling scooters online of course…and the secret sauce…offering free shipping! Check it out. Here's one of the top sellers I found where you can buy a scooter online and have it shipped to you for free.
These guys are pretty smart.  They even have an online chat feature.  Wouldn't you want to ask people questions before you bought a scooter?  Of course.  This is the only website I've seen selling scooters that both offers the low prices, free shipping AND online chat.  Good job guys.
Visit this site just to get some ideas for layout or maybe you're even interested in buying a scooter online as they've done their homework with making things easy to find.  If it was my site, I would have the online chat piece up top in the right corner as a main feature.  They'd double their sales in a week I'll bet.  But, that's just me.
Tell me what you think of the scooter website.  Or share your view/experience with the scooter craze happening right now. Add your comments below.
Click a Star to Rate This Post:
Tell Others About This Post:

Email This Post to a Friend