Posted by Marty Dickinson on Jun 19, 2008
I was talking with one of my website designers yesterday about my website waves blog and told him I made $2 the other day when I finally got my Adsense code installed. Now every time someone visits my Website Waves blog and clicks on the "Ads By Google" listings, I will get a few cents or maybe sometimes a little more.  He kind of chuckled a bit and said something like "All that work for 2 dollars?" Well, it gets better, because if you've been keeping up with my blog journey diary, I only relaunched this blog a few weeks ago.
By following my Ultimate Blog Checklist, I'll be able to calculate pretty close to how much traffic I'll be getting to the blog by the end of this month and how much more it will increase by the end of August. And, by then the $2 a day will turn into $10/day…or at least that's the goal. So, an additional $300 per month from Adsense is the goal. I'll report at the end of August if I make the goal so stay tuned.
Today, though, is about exactly how I added the Adsense code. My designer kind of chuckled again as he asked, "Do you have to copy and paste Adsense code every time you make a post?" A firm "NO" was my answer. Once you have the Adsense code, you just copy and paste it into the appropriate file in your blog template.
Here, let me show you: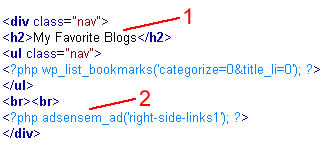 If you look at any page of the Website Waves blog, you will see a heading on the right column called "My Favorite Blogs."  Where I show the #1 in red is the html code that gives the heading its look and color, the way my designer designed it.
The #2 shows the code I was provided by adding the Adsense Plugin called Adsense Manager (free through WordPress of course).
3) The third step is to open the template file that contains the code for the right column (or any other column, header, footer where you would want to enter Adsense code to your blog posting.
This does require some FTP knowledge so that you can open the file on your computer, make the addition, save it, and transfer it back to your website hosting account where your blog is stored.  But, that's how it works anyway.
My designer then asked, "So, what about where you now have Adsense on every post in the middle of the post after the first main paragraph? Did you go back and manually add that code to every post?"
No again.  I told my programmer what I wanted and he inserted the code for me.  I think it took him about 10 minutes.  I can't even describe how he did it, some Javascript thing.  But, that's the point.  I don't NEED to know!  I just need to know what I want and that the two most important places to have Adsense code on your blog are on the right column after your post summaries and also embedded with your post content.  It was up to my programmer after that
So, you might snicker too at my small fortune of the measly $2 I made yesterday, but now that I have the code embedded to appear automatically on every post I make, in the two most money-making places on a blog post, even on a bad day I'm already setup to make an extra $60 per month.  And, that's if I don't even make any more postings!
Imagine the possibilities when I have hundreds of blog posts all with Google ads appearing within those posts?  I'll keep you, well, um, "posted!"
If you don't have Adsense code appearing on every post in your blog, stop wasting opportunity!  Give your designer or programmer a call and if you don't have one, call me at 303-743-0832 or send a contact request and we'll get you setup.
Click a Star to Rate This Post:
Tell Others About This Post:

Email This Post to a Friend